The Program Admin allows you to create specific settings for a Program running within a Client site. Each Program will have a unique Program Admin page. Settings cannot be copied or shared between Programs.
To access the Program Admin, you must first click Programs on the Client Configuration Menu. This will bring you to the Programs list, from here you can click Edit next to any Program to enter that specific Admin.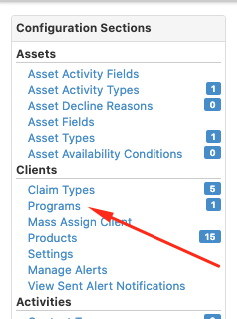 By this point, the layout of the Admin should feel pretty familiar to you. Once again, we have the Configuration Menu to the left and the listed sections going in order down the page. The Program Admin has fewer items to configure than either the Global or Client Admin pages, but as with the other sections, there are some links in the Configuration Menu that are only accessible via those links and not through the page itself.
Items on the Program Admin are: Event Custom Fields, Files, Mass Assign This Program, Program Event Types, Program Settings, Claim Types, Default Shifts, and Position Types.
The Event Custom Fields link is the only option that is not also listed on the Admin page itself.
---
What's Next