The Global Admin will control settings and setup at (you might want to sit down here) the global level. This means that the settings you save here will apply to all clients and programs on the site. Along the left hand side of the page, you will see the Global Configuration Menu. This menu will allow you quick access to any sections on the Global Admin page, as well as access to some items that are only reachable through this menu.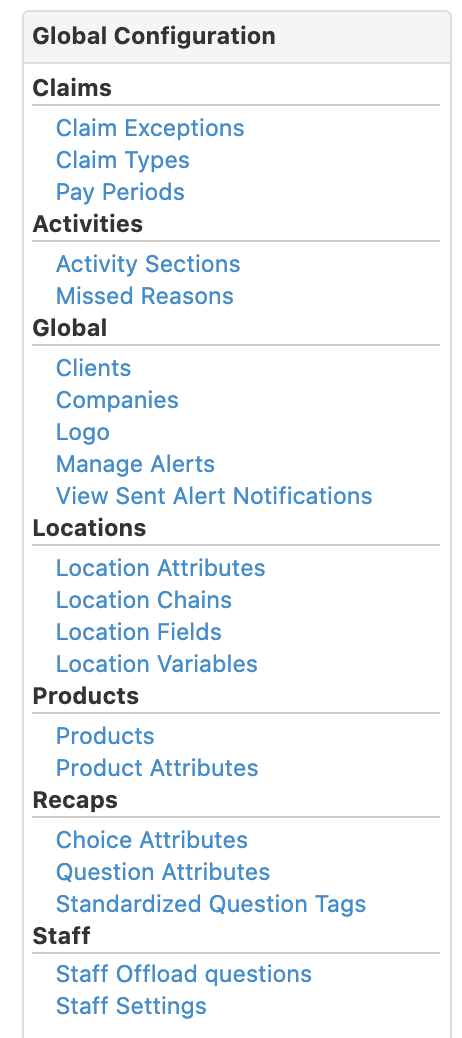 The Configuration Menu is laid out in the order that you will find items on the page, but clicking any of the links will save you having to scroll through. This menu also offers access to Custom Field sections which are not listed on the Admin.
The Global Admin allows you to control larger scope items for features that you will narrow down as you move through the Client and Program Admin levels. So Claims on the Global level have Claim Exceptions, Claim Types, and Pay Periods. These items must be added at this level in order to be used on the Client and Program levels later. Not all Claim Types need to be used on every Client, but all Claim Types must first be added globally.
Other Global items are: Event Sections, Missed Reasons, Clients, Companies, Logo Upload, Manage Alerts, View Sent Alert Notifications, Location Attributes, Location Chains, Location Fields, Location Variables, Products, Product Attributes, Choice Attributes, Question Attributes, Standardized Question Tags, Staff Offload Questions, and Staff Settings.
As an example on how to use the configuration menu, to find a specific client, look under Global and click Clients. This will bring you to the Clients section and from there, you can click Edit to enter the Client Admin.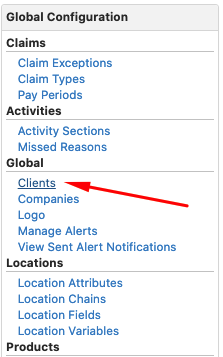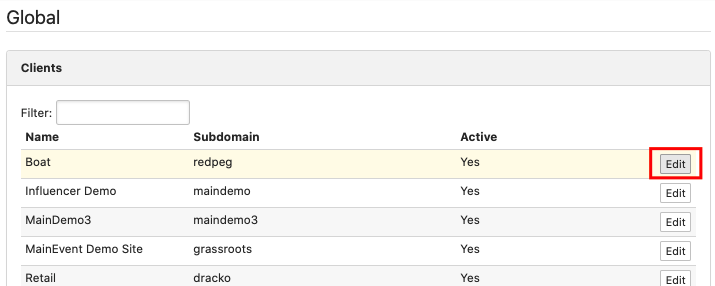 Listings in the Global Configuration Menu that are not visible on the Admin page are: Claim Exceptions, Manage Alerts, View Sent Alert Notifications, Location Chains, Location Fields, Choice Attributes, Question Attributes, and Staff Offload Questions. For each of these sections, you will need to click the link within the Configuration Menu to be directed to the correct location.
---
What's Next