Share feedback
Thanks for sharing your feedback!
Client Settings are used to define what functionality and attributes are associated with a specific client. This includes the ability to add/change logos, toggle the clients status between active and inactive, as well as determine the name of the client amongst other things.
To access the client settings follow the steps below.
Click on Admin in the navigation bar and then click on View
Go to the left side of the screen is a section called Global with and click on the Clients option located under it.
Once in the Client admin, scroll down to the Client Settings section.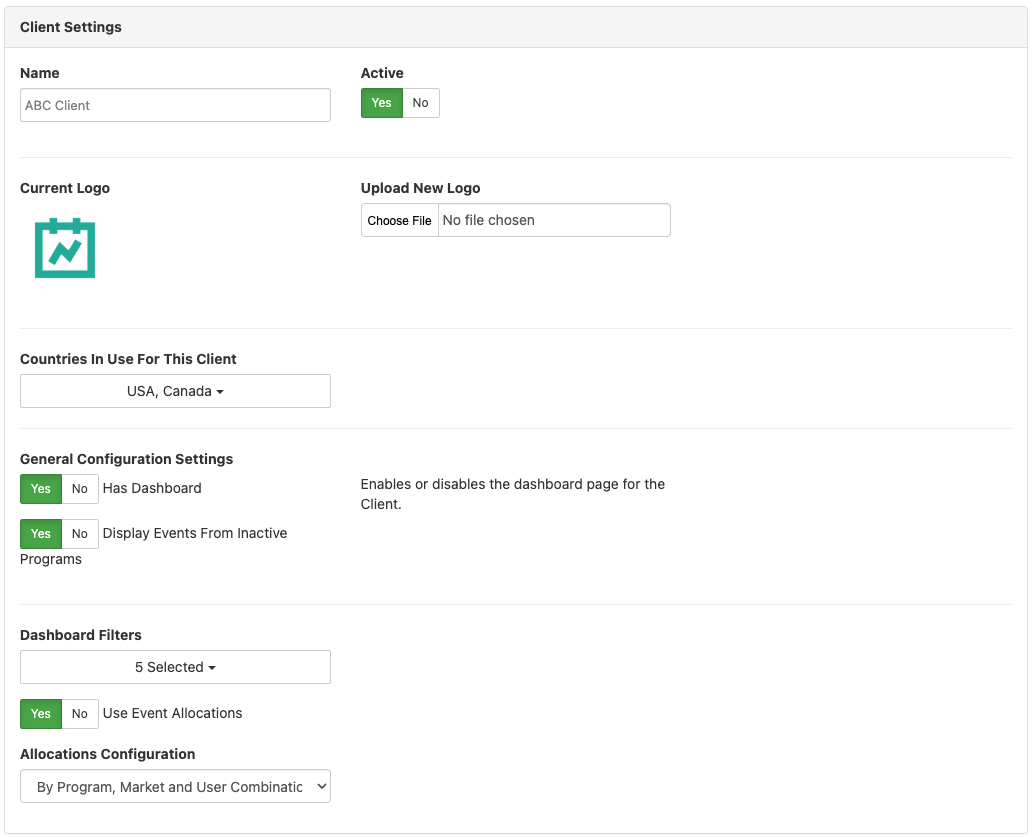 Name
You can assign/change the name of a client by entering a new client title under the name field and then clicking save at the top of the page. This will update the name of the client for all users assigned to that client.
Active
You can also toggle a client to be active or inactive. If the client is marked as inactive, all data is retained on that client, but it will no longer appear as an option for users to navigate to in order to create events, location, or recap.
Logo
You can see the current logo's image (if one has been uploaded) but you can also add/change it for a client at any time. To add or change a logo use the Choose Files button located under "Upload New Logo". Once clicked, you will be asked to select a file to upload (PNG or JPG files only). Once selected, click save at the top of the page. This will update the client logo that appears at the top of the screen when under that specific client, as well as update the client block that appears for users with access to multiple clients.
Countries in Use for this Client
Select the countries that the program will be conducted within. This will ensure that location addresses can be correctly added and mapped.
Toggles
There are a number of features that can be toggled on and off in the client settings. For each option, select the toggle as Yes or No and then click save at the top of the page to apply the changes.
Dashboard
All clients will have a dashboard view available for them when set up. However, if you do not wish to use the dashboard feature, which is used to display event data in graphs, stats, maps, and calendars, then you can toggle it off.
Display Events from Inactive Programs
Allows data from inactive programs to display on index pages.
Dashboard Filters
First, we'll acknowledge that this isn't a toggle, but we're going to keep it here nonetheless. Choose the default filters for the standard dashboard builder here. Options are: Markets, Definitions, Period, Programs, and Event Types.
Use Event Allocations
Will enable Allocations on the Client. Additional Role Permissions will need to be enabled prior to this being switched on.
Allocations Configuration
Select how you want your allocations configured. Options are: By Program and Market Combination
---
What's Next