Asset Statuses can be used in the system to show the many different stages of an asset's life. The following statuses are available:
Active
Requested
Rejected
In Production
Inactive
Management users can control the Asset's status and move them from status to status. To do so, simply click on an asset profile from the Asset Index. In the top right corner of the screen you will notice an "Adjust Current Status" button that can be used to move an asset from one status to another.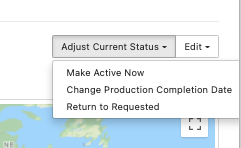 Each change in an Asset's status will then appear in the Asset Status History index. This index page will indicate the asset's current status as well as what it's previous status was and who made the most recent change to it.

---
What's Next