Adding a position to an Event
Adding a position to an Event
---
The final step in creating an event is setting up the positions, if you are using the staffing functionality. The shift(s) can be made to cover the entire event, or smaller segments of a longer event. Multiple positions can be created for each event as necessary to meet staffing needs.
Select the Position Type for the Shift. This will vary project to project but may include: Brand Ambassador, Team Lead, Promo Model, or DJ. Make the appropriate selection, click Add Position.
Note, when selecting the Position Type, only Staff Users assigned to that Position Type will be eligible to be assigned to the position. If a Team Lead is going to be assigned to a Brand Ambassador shift, they must also be assigned to the program as a Brand Ambassador.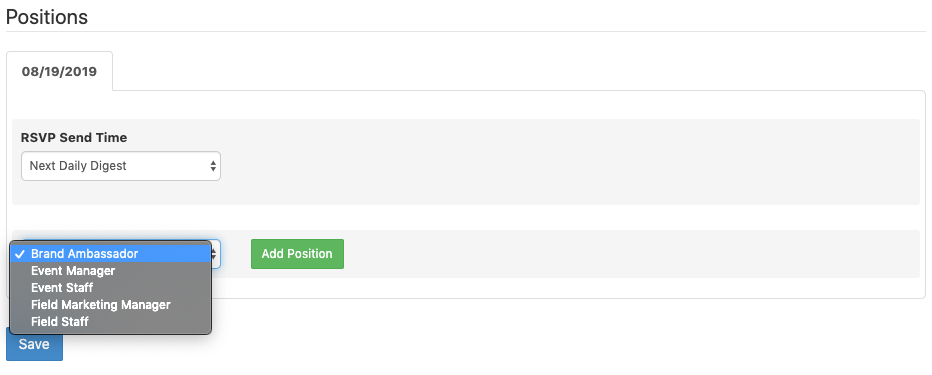 This will create a Position Card which lists the Start Time, End Time, and the Override Rate. The Override Rate will default to zero and is to be used for special circumstances only. This Override Rate field will override all other rate fields within the system and should not be used to reflect standard pay rates for Staff Users. The Start Time and End Time fields will default to the Start and End Times of the Event but can be changed as needed. Clicking on either field will open a toggleable clock window which allows for incremental and select options for choosing the time, as when the event time was entered.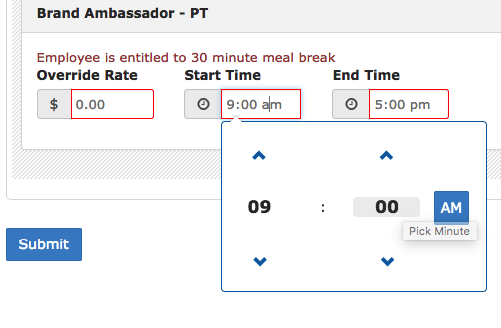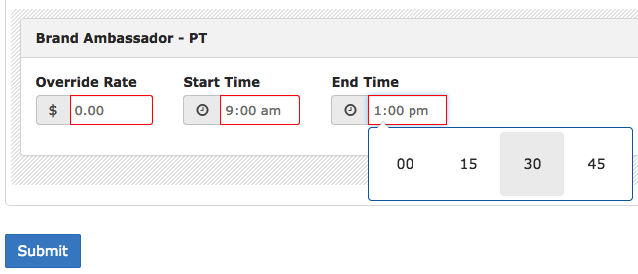 Click Submit to create the Event.
---
What's Next